Procura + Awards 2020 - Successful participation by the BBG
The Procura + Awards recognize successful, sustainable and innovative public procurement projects in Europe. These procurements lead to significant improvements of public goods, services, processes and infrastructure. The BBG has successfully applied for the "Procurement Initiative of the Year" category and is one of the finalists!
Previously, BBG operated both the Austrian competence centre for innovation procurement as well as the sustainable procurement service centre. By integrating these two services, BBG wanted to create synergies and increase the share of innovative and sustainable products in its portfolio and became a reliable partner for Austrian federal and local public purchasing bodies in delivering on societal goals. As a result, BBG has raised awareness among its employees and clients that sustainable and innovation procurement can offer economic, environmental and social benefits.
For this purpose, workshops and events are organized and exemplary innovative and sustainable lighthouse projects are developed. The BBG- e-shop is also a helpful tool. Interested parties can use filters to search for various sustainability marks and/or innovative products and services.
This year's awards were presented on October 1, 2020 in Berlin. Adrian Malzer, employee of the Austrian Finance Attaché in Berlin, represented the BBG on site.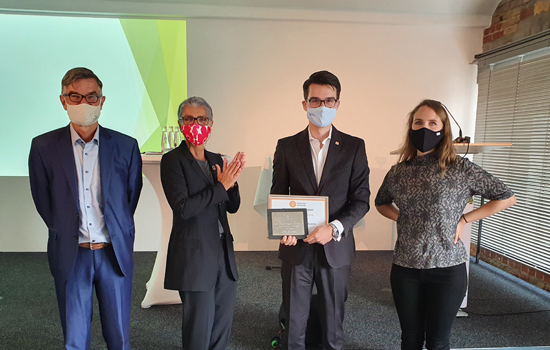 from left to right: Dr. Ulf Jaeckel (BMU), Dr. Minu Hemmati, Adrian Malzer, M.A., Paula Land, M.Sc. (ICLEI)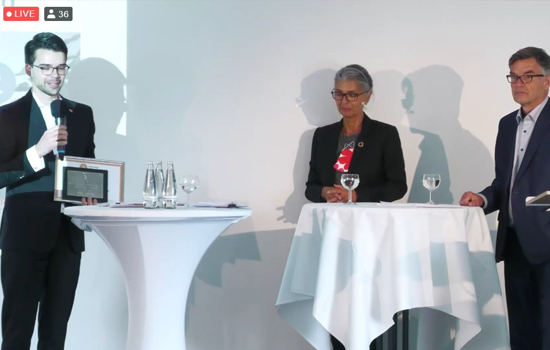 Related content
NEWS
Procura+ Awards 2021
The Procura+ Awards reward successful, already running, sustainable and innovative public procurements.
Procura+ Awards 2021 Read more